Article
Overcoming the challenges of communication in the chestnut industry
Publication date: 10 February 2022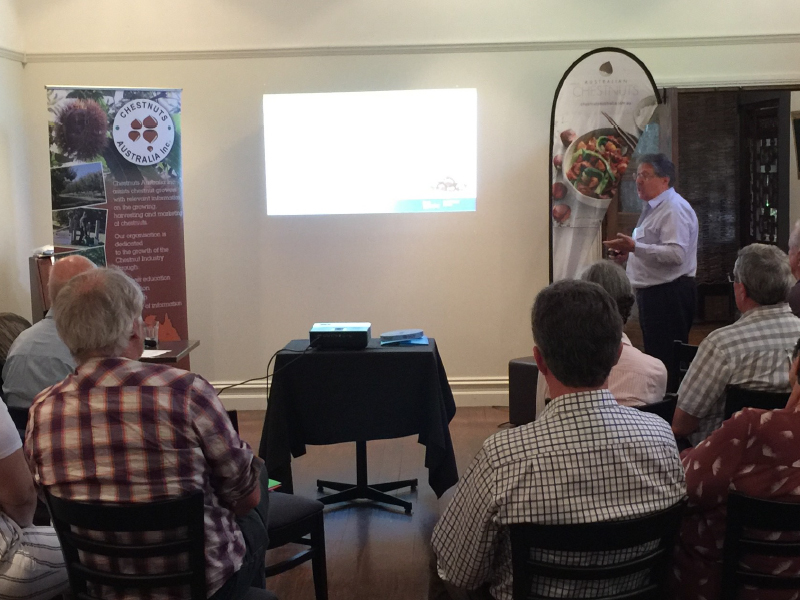 This project keeps the industry up to date with the latest news, research and development outputs and other key information through a variety of channels.
The challenge
Strong communication and technical support are vital for chestnut growers and other industry participants to be able to make informed decisions when facing future challenges and opportunities.
Meet Tom and Judy
Tom and Judy Robertson run a chestnut farm in Tumbarumba, NSW. While their operation was damaged in the 2019-2020 bushfires, their operation wasn't hit as hard as others.
"Our property came away relatively unscathed with only a few repairs required but we are very conscious that others didn't fare so well," says Tom. "Ours is a small industry and we are all working together to help get everyone back on their feet."
This program aims to do precisely that by keeping growers informed and allowing them to work collaboratively. According to Tom, "This project provides a network which connects chestnut growers from Victoria, as well as interstate."
"The program's responsible for the organising of meetings and field days. Without it, there would be no regular educational opportunities for growers and processors. It produces industry-specific newsletters, as well as being a regular contributor to the tree nut industry magazine, The Australian Nutgrower. This also helps keep growers connected."
Despite the impact of COVID restrictions in some areas, the field days remain an integral part of the program, giving growers hands-on exposure to the latest technology and developments. "The field days showcase innovations and products, which keep chestnut growers informed of new technology and advancements in management techniques," says Tom.
"In a nutshell, the chestnut industry would be a less successful and far more fragmented industry without this comms project."
The approach
Under this program, growers receive the information they need through a variety of channels. Twice a year they receive a copy of Chestnut Industry News – a print and digital newsletter with the latest industry research, events, technology and news. In between editions, regular emails and mini e-newsletters keep growers informed.
Quarterly industry updates are also distributed to growers via the Australian Nutgrower magazine, and the Chestnuts Australia website and social channels are continually updated, including information about upcoming workshops and events (which are also funded under this program). Industry statistics, detailing national planting and production information for the industry, can also be accessed in a new section in the levy payers' area of the industry website
The impact
As a result of this national communications program, Australian chestnut growers are kept up to date with the latest industry advancements, no matter where in the world they take place. By keeping Australian chestnut growers informed, they are well placed to grow the industry both domestically and internationally, increasing productivity, and ultimately, profitability.