Article
Growing the world's appetite for Aussie almonds
Publication date: 10 February 2022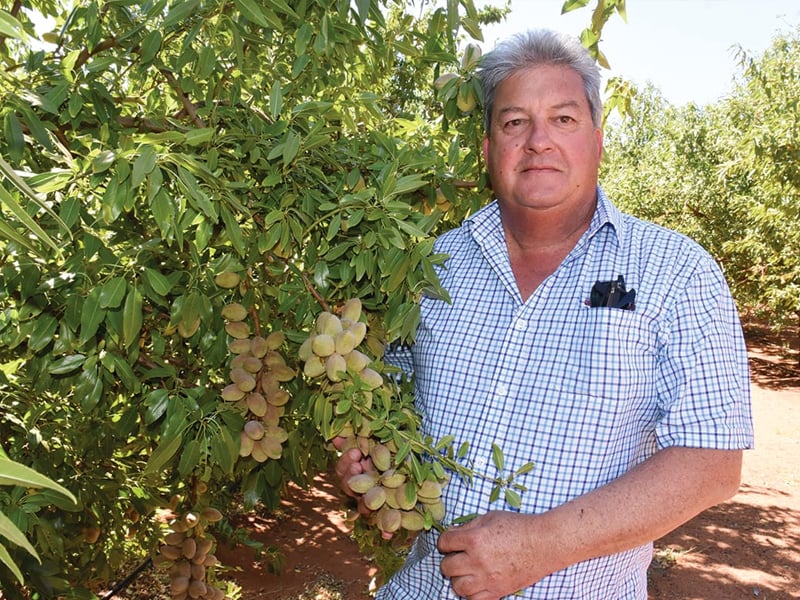 We're backing our growers, giving them the tools they need to increase exports and access new markets.
The challenge
Australia is already the world's second-largest almond exporter, reaching markets in more than 40 countries. With production surges predicted in coming years, the industry must tap into new and emerging markets, like Thailand and Chile, to continue its rapid growth.
Meet Brendan
Brendan Sidhu is CEO of Century Orchards – a 700-hectare almond farm in South Australia's Riverland region. He's seen first-hand the growth of the domestic almond market but knows the key to continued growth lies in exports.
"In recent years, the collaborative efforts of the Australian almond industry has driven domestic consumption to more than a kilogram per person per year," says Brendan. "This is equivalent to the success of the US domestic market, which is the largest single almond market in the world. However, the key to the Australian almond industry's sustainable development has been its ability to grow export markets.
"As an industry, we export more than 70 per cent of our production. This percentage is likely to increase further over this coming decade as our industry's production continues to grow significantly.
"The support of these Hort Innovation projects, which help grow the Australian almond export market and access to new markets, are crucial to the underlying sustainability of our industry.
"These projects help Australian almond growers and marketers connect and communicate with our major international customers. While we have had to transition from the physical face-to-face export exhibitions of pre-COVID years, the two Hort Innovation projects have provided the support to develop new digital communication platforms. We have developed and piloted a virtual trade exhibition platform that will continue to evolve over the final year of these projects and provide great benefit to our industry in the years ahead.
"These export projects also provide support for our Almond Board of Australia team to pursue important market access issues such as regulatory affairs in Europe, food standards in India and product quality testing in Japan."
The approach
These programs are developing export markets for Australian almonds across the world, building on the strong reputation and recognition of the Australian Almonds brand. With formidable representation at several trade shows, pre-COVID, Australian Almonds had a strong presence at SIAL Paris, ANUGA Cologne, Gulfoods, China Tree Nut Conference, SIAL China, Supermarket Trade Show Japan, Food and Hotel Indonesia and Food Ingredients Asia. The Australian Almonds brand was also represented at trade exhibitions in the emerging markets of Thailand and Chile. However, during the pandemic, the focus switched to digital engagement, ramping up communications with major nut importers, wholesalers and food manufacturers, particularly in the crucial markets of China and India.
The impact
Despite the difficulties posed by COVID, the industry has gone from strength to strength in 2020/21 and the desire for Australian Almonds is at an all-time high.
Market-specific websites for India and Japan were developed, providing a repository of information about the Australian almond industry in local languages, targeting existing and potential new customers. Education programs were also deployed in China, Indonesia, New Zealand and India, with a specific campaign targeting the Indian almond trade during Diwali.
Investment and support from this program helped ensure Australian growers have capitalised on changing trade arrangements and market conditions, increasing exports to India (our second biggest export market) by 38 per cent compared to last year, while the Middle East and European markets grew 16 and 17 per cent respectively.