Article
Ensuring our growers have the berry best news, information, resources and technology
Publication date: 11 February 2022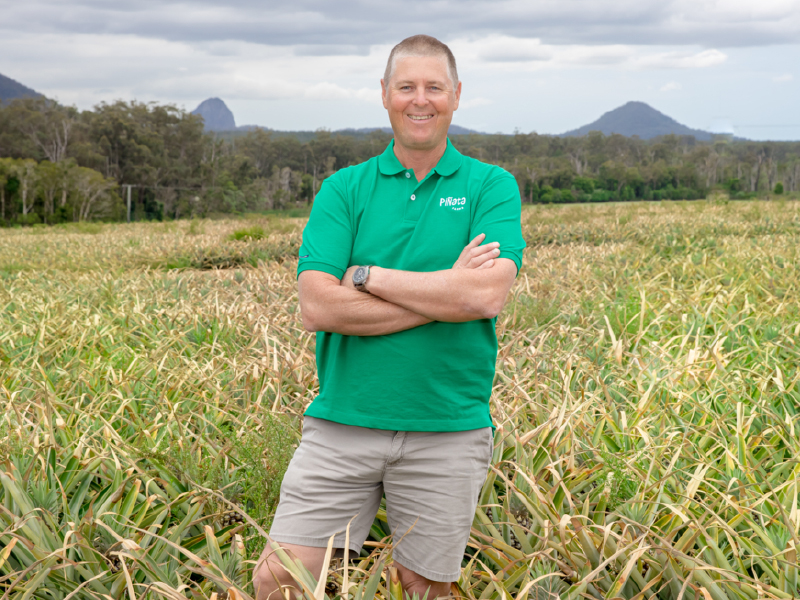 Since 2019, this multi-industry development and communications investment has supported Australian berry growers to adopt the very latest practices and technologies on their farms with hands-on training by development specialists.
The challenge
To create a 'whole of berries' approach to improve efficiencies and allow for coordinated extension of the many cross-berry research and development projects conducted through the levy. Growers also need to be kept up to date with the latest best practice and technology, improving their knowledge and skills, ultimately increasing their productivity.
Meet Gaius
Gaius Leong is Chief Agronomist with Oz Group, the largest blueberry supplier in Australia. Since the program began, he's worked closely with Industry Development Officer, Melinda Simpson, to maximise productivity for his operation and the industry.
Melinda's role is funded under the levy as part of the program, providing specialist skills and knowledge. "We work closely with Melinda to highlight limiting factors to knowledge and productivity, as well as those things that impact the environment," says Gaius.
"The process always begins with finding the root of the problem, brainstorming for feasible and practical solutions, trialling or researching that it works, developing an extension plan, applying for funding support, and then executing the plan through field days, workshops, farm visits, or factsheets.
"We have done this for chemical use, pollination, pest and disease IPM, and water use efficiency. The next on the agenda has to do with irrigation uniformity and design.
Melinda is meticulous, adaptable, resourceful and invaluable to the entire process of developing the grower base to increase production sustainability and reduce environmental impacts in the region."
The program is also responsible for keeping growers up to date with the latest industry news, research and techniques – something Gaius says is a real benefit. "As we work closely with the Australian Blueberry Growers' Association, I believe the news has always been useful and practical. This is highlighted in the uptake and grower dependency on the annual Berry Plant Protection. I also look forward to receiving the monthly update. It provides a quick snapshot on industry news and upcoming events, which is extremely helpful."
While COVID has impacted some of the workshops across the country, they've been an important part of the program, and well-received by the growers, according to Gaius. "Melinda has been at the forefront of developing workshops for IPM, spray calibration, and pollination in the area. The feedback from growers and others in the industry has been extremely positive, and we look forward to conducting more of these positive interactions post-COVID."
"Spray calibration (coverage, nozzle/droplet selection, rates etc.) has been one of the major extension projects that Melinda has developed for the industry. Before the calibration of coverage to blueberries, the industry (via APVMA) was using coverage rates recommended for tree crops, just as macadamias or avocados. Through her tireless and dedicated work over a year, we developed a BMP for blueberry chemical application, significantly reducing spray drift into the environment and increasing production via better crop protection."
Meet Gavin
Gavin Scurr is a berry grower with operations in Queensland and Tasmania. He's found the program to be extremely helpful for growers, especially during the pandemic. "The broader comms, particularly during COVID, was excellent. When it first hit, we were all scrambling to work out what was going on. Being involved in other industries, I can say that the berry industry did a much better job of letting growers know what was happening. It was just enough information without being overwhelming. Rather than sending out a million emails and bombarding everyone, they gave you the valuable nuggets. I think they did a really good job on that."
Gavin also looks forward to the Quarterly Berry Journal and weekly e-newsletters he receives under the program. "The journal covers all four crops and is extremely helpful," he says. "And the newsletters are a good round-up of what's happening, particularly at the moment with all the lockdowns and getting staff across borders. That information is very relevant."
The approach
We are providing more resources on the ground in growing regions than ever before. There are valuable learning opportunities, like workshops (now mostly online due to COVID-19), field days and farm tours. In addition, there is regular communication with our growers, keeping them up to date with all facets of the industry.
Berries Australia was chosen as the delivery partner for this project and has implemented a nationally coordinated, locally implemented development program building specialist skills and knowledge underpinned by an effective and modern communications program.
As well as extension activities, the project produces key communication channels for the berry industries, including a quarterly magazine, a monthly newsletter, with information tailored to each crop, as well as the latest across-industry R&D, and the Berries Australia website, with industry news, information and resources.
The program also produces fact sheets and case studies, berry plant protection guides for each crop, holds workshops across the country (COVID permitting), and webinars.
The impact
As a result of this approach, all berry growers in Australia now have a local berry Industry Development Officer (IDO) while specialisations are incorporated into the project to support a range of extension and communication needs of the different berry industries.