Company annual reports
View Hort Innovation's current and past annual reports
Our current annual report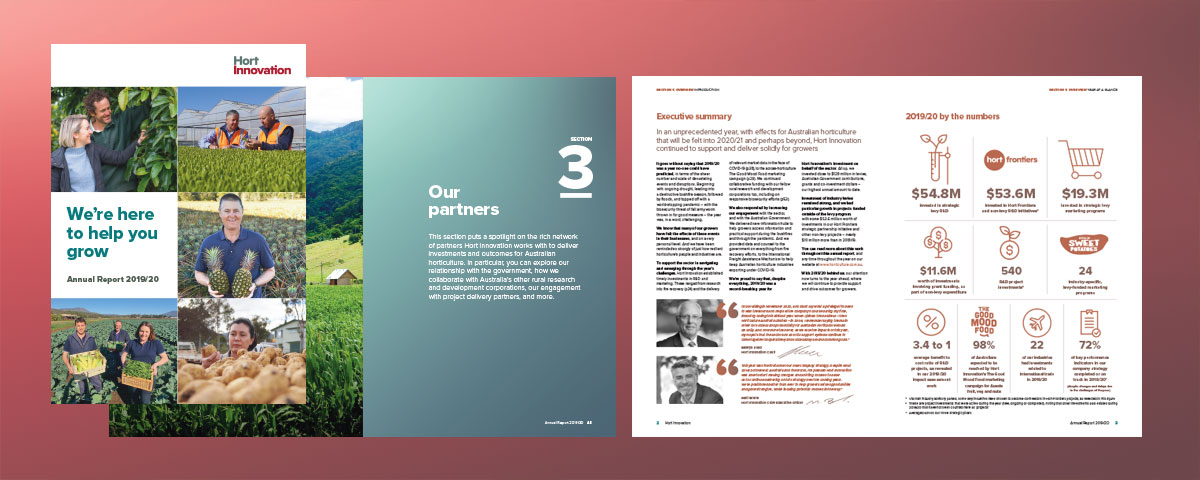 The Hort Innovation Annual Report 2019/20 is presented in four sections plus the financial report…
Section 1: Overview
In a year of challenges and change, this section provides an overview of Hort Innovation's achievements and proudest moments of 2019/20, as told through the eyes of our people. You'll also find information on the company's structure and teams, details of our funding and how we make investment decisions, plus a look at our corporate governance.
Section 2: Our work
Delve deeper into the company's activities and investment areas in this section, to better understand exactly what Hort Innovation does and how this benefited horticulture industries in 2019/20. You'll find plenty of facts, figures and case study highlights, as well as information on how we responded to the unforeseen events of the year.
Section 3: Our partners
This section puts a spotlight on the rich network of partners Hort Innovation works with to deliver investments and outcomes for Australian horticulture. In particular, you can explore our relationship with the government, how we collaborate with Australia's other rural research and development corporations, our engagement with project delivery partners, and more.
Section 4: Our performance
Better understand Hort Innovation's successes and overall performance in 2019/20 in this section. You'll find the results of our yearly impact assessment work, information on our management of intellectual property, and other key details from the year. Most importantly, this section includes a review of the company's performance against the Hort Innovation Strategy 2019-2023.
Financial report
This section delivers our formal reporting, including the Directors' report for 2019/20 and the company's full financial report.