Article
Protecting Australia's banana industry
Publication date: 10 February 2022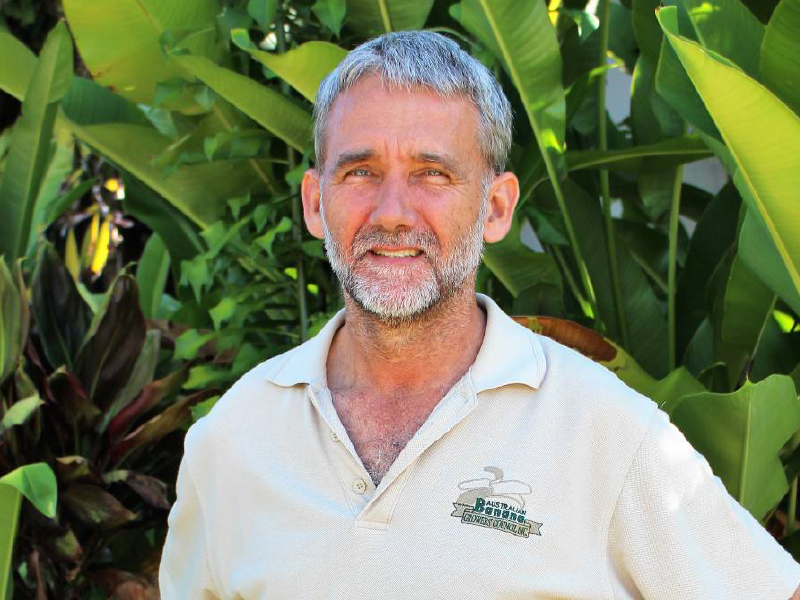 Across several investments, the Hort Innovation Banana Fund continues to protect Australia's valuable banana industry from current and emerging pest and disease threats that have the potential to impact grower profitability.
The challenge
The banana industry faces several disease pressures, including TR4 disease – a soil-borne fungus that easily spreads by infected banana plants and contaminated soil and water. Growers need support to detect, contain, and manage these diseases, as well as access to new plant varieties that are resistant to TR4.
Meet Stephen
As part of the program, new varieties with promising TR4 resistance were trialled on four banana farms in Far North Queensland and one in the Northern Territory. These varieties had TR4 resistance comparable to the Goldfinger variety.
S Lowe and Sons, based in Tully, Far North Queensland have been involved with the project since they planted their experimental crops back in October 2019, which they harvested a year later. "The plants performed above my expectations," says owner, Stephen Lowe. "I've been very surprised at the varieties and the bunches we're getting off them. The only problem has been the time to get a bunch. It seems to be that when you have a tolerant variety, they are slower."
"But it does depend on how you farm. There are opportunities to phase your crop. I think it's something you could work with, but it's just not ideal if everyone else doesn't have to do it."
The fruit has also been sent through to market. Feedback from agents and consumers has been generally positive, a sentiment echoed by growers attending the industry Roadshow Series who were able to sample some fruit. The data so far suggests that ripening conditions, shelf-life and taste are comparable to Williams.
"It's quite important to have trials like this on commercial farms so that they get exactly the same treatment as what your crop is going to get when they come onto the farm," says Stephen. "That way the farmer knows exactly what they can expect from the variety."
The approach
The Hort Innovation Banana Fund supports several projects dedicated to helping growers manage the pressures of key pests and diseases. Through a range of research activities, including disease surveillance, the development of new tools and knowledge to manage pests and diseases, variety evaluation research, and extension, the levy fund continues to provide Australian growers with a key resource to manage current and future pest and disease pressures.
As part of the research program, the levy fund supports on-the-ground staff, whose role involves educating those on the front line, providing guidance to growers, conducting farm surveillance, and leading other biosecurity-related activities.
The research program also continues to invest in the development of fast and accurate diagnostic tools to detect key pests and diseases of concern to growers. In addition, research continues into developing new tools to manage on-farm pests and diseases. As part of this research, new banana varieties that will be more resistant to pests and disease are currently being evaluated under Australian growing environments to support the future needs of Australian growers.
The impact
This suite of plant protection programs, delivered with strong industry collaboration, has contributed to slowing the spread of TR4 in the banana industry, with the disease currently contained to the Northern Territory and North Queensland's Tully Valley.
This level of containment is unheard of in most other countries where TR4 has quickly reached epidemic proportions.
The achievement of this containment program is a result of a coordinated response, effective extension of knowledge to industry and its stakeholders, and the adoption of new biosecurity practices – all of which are underpinned by various projects under the levy and strong collaboration with growers and industry stakeholders.
The program has also continued to develop new knowledge on emerging threats. For example, there have been advances in understanding the biology and epidemiology of banana blood disease. The project team has established that Cavendish is susceptible to this disease, which has serious implications for banana producing areas worldwide and developed a novel test to detect it.
The work of these programs is communicated through the Australian Bananas magazine, industry e-bulletins, and various updates on the Australian Banana Growers' Council website.