Article
Reminding Australians that good things come in pears
Publication date: 25 February 2022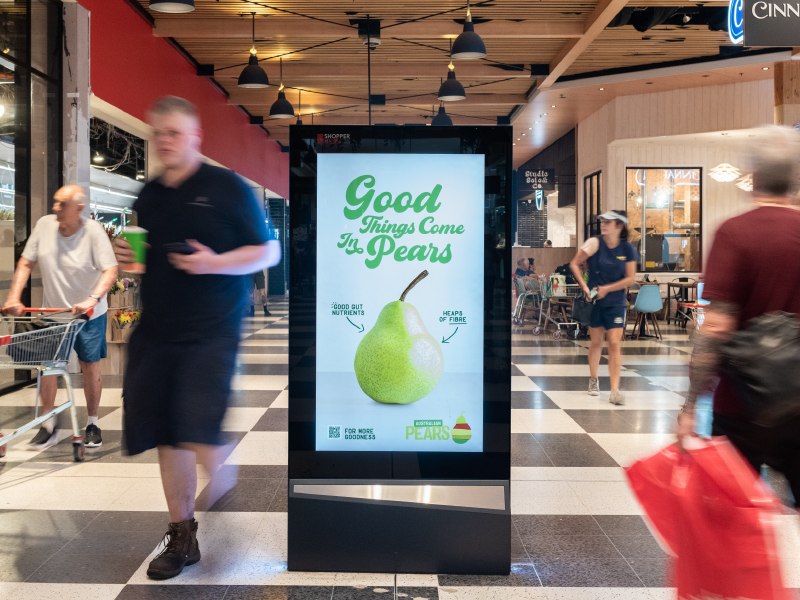 "The 'Good things come in Pears' campaign for Australian Pears played on the pear/pair word association to highlight the obvious: that pears are great, particularly for gut health, but they're also fun to eat. The creative also assists customers via media channels to understand the ripening process associated with pears and how to avoid bruising for that perfect pear experience."
Nardia Stacy, Executive Manager at Pomewest
The opportunity
With Australia's appetite for pears declining in recent years, the main goal for 2020/21 was to rekindle the nation's love affair with the delicious fruit by capitalising on its winning combo of great taste and health benefits.
The approach
With just 60 per cent of Australians eating a pear throughout the year, marketing activity focused on reconnecting consumers with the product, turning pears from a 'forgotten' fruit into an Australian favourite. Research showed that Aussies often underestimated how good pears are for their health, so the Good Things Come in Pears campaign was created to remind them of this.
The new campaign positioned pears as a healthy, tasty snack that's surprisingly good for you. It was supported across digital channels, via an 'always-on' social media campaign, including influencers, plus outdoor advertising.
Some of the nutritionists and celebrities were enlisted for the PR campaign, targeting 25–54-year-old healthy foodies and health-conscious, heavy fruit buyers. Key facts from the consumer survey were pitched to the media, with Nutritionist Dr Joanna McMillan and Masterchef judge, Melissa Leong, enlisted as spokespeople for the campaign.
Far from being "forgotten" the pear and its many health benefits were visible everywhere, from roadside ads to shopping centre displays. With catch-up digital viewers growing 30 per cent year on year, three 15 second ads were also created to run on the medium, providing huge exposure and cut-through.
To target shoppers in-store, ads also ran across various retailer media channels, including retail magazines, digital front of store screens, and across retailer online shopping websites.
Further afield, the Taste Australia retail program promoted the quality and benefits of Australian pears to overseas markets, with 8,500 tonnes of pears exported in the 12 months to May 2021.
Hort Innovation also supported pear promotion in Western Canada, where Australian Pears recorded a 20 per cent increase in trade for the 2021 season and was the leading supplier of southern season pears into British Colombia in the first five months of 2021, according to the Canadian government
The outcome
Tasked with returning pears to prominence, the Good Things Come In Pears campaign ensured that Aussies of all ages reengaged with the fruit and were once again reminded of its many taste and health benefits. Across multiple platforms, this campaign reached millions of all ages, particularly the young and health-conscious. Some key highlights include:
1 million completed ad views across 7plus and 10play, reaching 5,130,000 people
520,000 YouTube views as of the end of June 2021 and growing
6 million people were reached by PR from April to June 2021, including 14 media mentions
1 million people reached via Australian Pears Facebook and Instagram pages.