Article
Positioning bananas as the Peel Good, Feel Good' fuel for active young Aussies
Publication date: 25 February 2022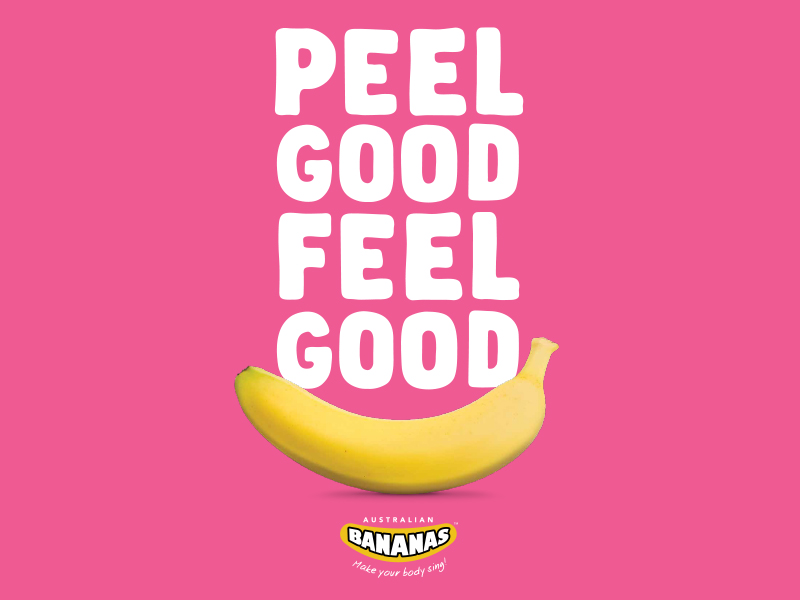 "I think I can speak for many growers when I say, thanks to the jingle, bananas are never too far from most shoppers' purchasing intentions. Over the years we've seen various themes, like 'Peel good, feel good,' accompanied by eye-catching artworks on buses, billboards, and the like. All the while we pull on consumer heartstrings by running the Make Those Bodies Sing jingle in an advert. This is a nostalgic reminder for existing consumers, but very importantly, it introduces new, young consumers to the great qualities of the Australian banana. The energy in these commercials gives the consumer a lift."
Peter Molenaar, banana grower, Northern Queensland
The opportunity
Consumer research identified "Young Transitionals" – 19 to 25-year-old with no kids – as the new growth market for Aussie bananas. This audience is motivated by a new type of energy to get them through the day, no matter what it throws at them.
The approach
An extension of the well-known and much-loved 'Make Your Body Sing' campaign, the 'Peel Good, Feel Good' campaign targeted "transitionals" with a highly-flexible, multi-channel approach, pivoting quickly with COVID-19.
The iconic 'Make Your Body Sing' themed TV adverts appeared in premium timeslots from September to October 2020 and January to February 2021, showing how bananas help you stay active and at the top of your game.
These were backed by digital display ads, aimed at 19 to 25-year-olds. They appeared on the BBC, Hello Magazine and Which Car platforms, among others. For those out and about, the campaign was displayed on 2,567 panels across digital shopping centre street furniture.
On radio, the 'Make your body sing' ads reached more than 2.7 million grocery buyers, and radio giant ARN provided pro bono ad slots during April 2021 to support the banana industry, post cyclones.
Capitalising on TikTok's popularity among the 'transitional' demographic, the social campaign crafted content specifically for the platform, rapidly growing Australian Bananas Tiktok account to 11,000 followers, and achieved more than 1 million views on some videos.
Meanwhile, an 'always-on' PR campaign created articles, recipes and posts promoting the benefits of bananas to health, exercise, and energy. These were covered by a wide range of media, reaching millions of Australians.
The outcome
Consumers, particularly in the target demographic, were left in no doubt as to the many delicious lifestyle benefits of bananas. From top-rating TV shows to outdoor billboards, you couldn't miss the 'Peel Good, Feel Good' campaign. This three-year campaign effectively positioned bananas as a fresh and natural alternative to processed energy bars, with its impact and reach clearly seen in the numbers:
5 million grocery buyers reached by the nine-week 2020/21 ad blitz
326 mentions in broadcast and print media, reaching millions
Three million were reached via YouTube.