Article
Making mangoes the 'must have' fruit of the season
Publication date: 25 February 2022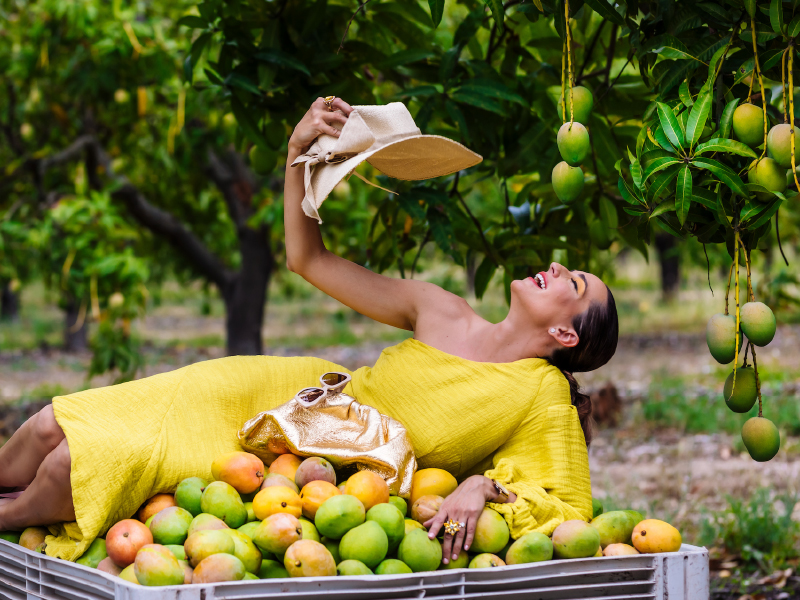 "The exposure of the campaigns was really good. Obviously, individual companies do their own marketing, but as an overarching campaign, I thought this was pretty effective, especially with the funds available. COVID put an end to some of the event-based activities, which I think actually turned out to be a good thing. Marketing was able to use those funds on other things, which resonated more and worked better."
Gavin Scurr, mango grower, Queensland
The opportunity
There was an opportunity to drive demand by reframing mangoes as a regular, healthy indulgence, and encouraging domestic and international shoppers to purchase during peak season periods.
The approach
Aussie Mangoes launched the 'This Season's Must Have' campaign, backed by video, outdoor advertising, social media and PR assets.
To promote the launch of the 2020/21 mango season Aussie Mangoes partnered with the Spring Racing Carnival, showcasing a mango-inspired hat by Milliner Neil Grigg, worn by a former Miss Universe Australia. The publicity generated 200 pieces of media coverage, reaching more than 60 million people around the globe.
Leading into summer, Aussie Mangoes also partnered with Foodbank Australia to deliver a festive charity calendar, which saw Aussie Mango growers ditch their flanno for high fashion. The campaign secured 250 hits, reaching 46 million people. This included coverage in the Daily Telegraph, reaching 1.8M readers. The season launch also in numerous other media outlets, including NT News, The Courier Mail, 9 News, Studio 10, and 10 news first.
To continue the PR momentum the marketing team commissioned The Good Mood Food Report, showcasing the many benefits of eating Aussie mangoes. The report, backed by expert commentary, generated print and digital coverage, featuring in Body+Soul, The Carousel and MiNDFOOD, reaching over 2.8 million people.
On social media, Aussie Mangoes partnered with fashionable influencers to create 'New Year, new me' mango recipes, which reached millions of health-conscious millennials.
In addition, from December 2020 to February 2021 Aussie Mangoes ran a YouTube ad campaign, communicating the delicious benefits of mangoes to the target audience, reaching 2.3 million people.
Overseas, Aussie Mangoes invested in four key export markets: New Zealand, South Korea, USA, and Hong Kong. The aim was to build strong, collaborative relationships between growers, exporters, importers, and retailers. Promotional activities included in-store POS (point of sale) material, button badges for store staff, catalogues, outdoor advertising, competitions, social media and influencer activity, and video ads on TV and online.
During the key December to January mango season, Aussie Mangoes took the 'Season's Must Have' campaign to New Zealand, backed by paid advertising across social media and retail locations.
In South Korea, COVID-19 made in-store promotions and sampling untenable, so focus shifted online, growing product awareness and understanding. This included recipe development, and PR and social media activity, backed by influencer engagement. Mangoes also featured on Korean online ordering platform B-Mart, resulting in 22,170 ad clicks and 432,041 views.
2020/21 also saw the Best Australian Mango Retailer Competition, which ran across 58 Wellcome and 25 Upscale stores in Hong Kong, along with in-store tastings and price promotions.
In the US, the Aussie Mangoes campaign included POSM, digital ads, mango bins, tent cards, cut fruit stickers, and more.
The outcome
Both at home and abroad, the various marketing activities greatly increased consumer awareness and appetite for premium Australian mangoes, noticeably increasing demand during peak season periods.