Article
Growing demand for Aussie grapes at home and abroad
Publication date: 25 February 2022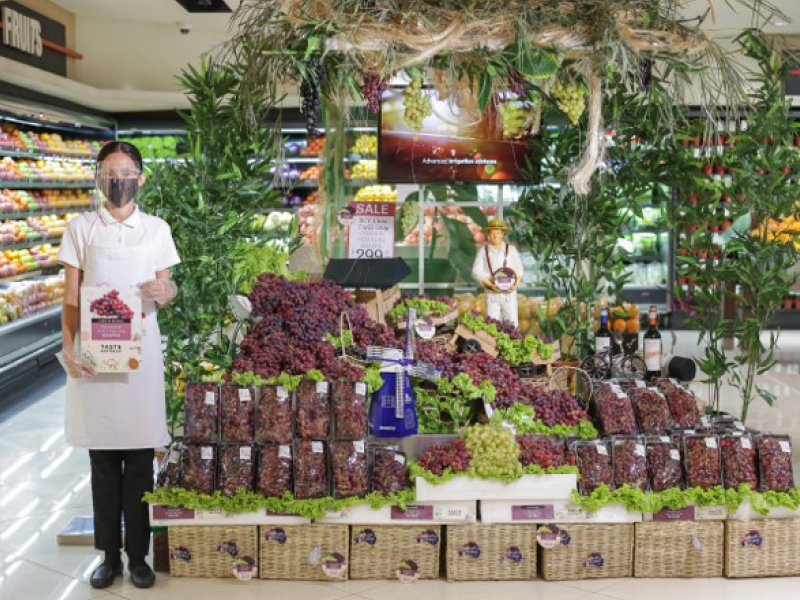 "Now, more than ever, marketing and promotion of Australian table grapes are absolutely crucial. I've seen much of what the team do, especially the stuff with Taste Australia, which is so important to tap into those overseas markets. In this environment, every dollar we can spend to help our industry is helpful."
Domenic Sergi, table grape grower, Victoria
The opportunity
Domestically, the campaign aimed to reposition Australian Table Grapes as a healthy and fun fruit to be enjoyed on any occasion as 'little moments of joy', while export marketing highlighted the product's high quality, cleanliness, and safety
The approach
Overseas, the Taste Australia consumer retail marketing program ran from early April to mid-June 2021 in Japan, Korea, Vietnam, Thailand, Indonesia China and the Philippines. Due to the challenges of COVID-19, growing conditions and supply chain disruptions, the campaign had to adapt as the season progressed.
The program was initially designed with a full suite of marketing activities in most markets, however, in February the scope was significantly reduced to facilitate a simpler retail program. The delivered activities focused on providing clear support to trade partners while also investing in e-commerce and digital marketing.
Additional funding was secured from the Victorian State Government's Export Recovery Program, which was used to implement additional e-commerce and digital marketing activities.
In Japan, promotions ran across 344 stores, with data from participating outlets showing a 388 per cent year-on-year sales increase off the back of the campaign.
In South Korea, the campaign included a combination of in-store, digital marketing, and e-commerce. Promotions ran across 51 retail stores, with sampling sessions alone generating almost $50,000 in sales. The digital component resulted in total sales of 36,500kg of Australian table grapes.
Giveaways, prizes, retail promotions and social media were the focus of activities in Vietnam, which all performed well.
Online e-commerce promotions in China saw sales on participating platforms increase almost 34 per cent from the previous year and an influencer social media campaign resulted in more than 8.72 million impressions.
In-store promotions in The Philippines between May and June 2021 saw sales increase 157 per cent during that period, and in Thailand, a strong digital campaign reached 1.26 million people.
In Indonesia, major retailers AEON and Hypermart ran Taste Australia content across their digital properties. In AEON, sales of Australian table grapes increased by 315 per cent year-on-year.
Closer to home, Australian social media promotions reached 1.6 million people and generated 9.9 million impressions, with another two million in WA alone.
Throughout the season, short clips promoting Australian table grapes also ran across YouTube, generating more than 2.3 million impressions.
The outcome
Despite the challenges of COVID, marketing activities adapted quickly, especially in Asia. As a result, there were large increases in promotion-related sales, with product awareness at an all-time high. The large increase in newly engaged consumers, both at home and abroad, suggests a growing demand for healthy, delicious Australian table grapes in the years ahead.