Article
Getting more Aussies to add the mighty mushie to their meals
Publication date: 25 February 2022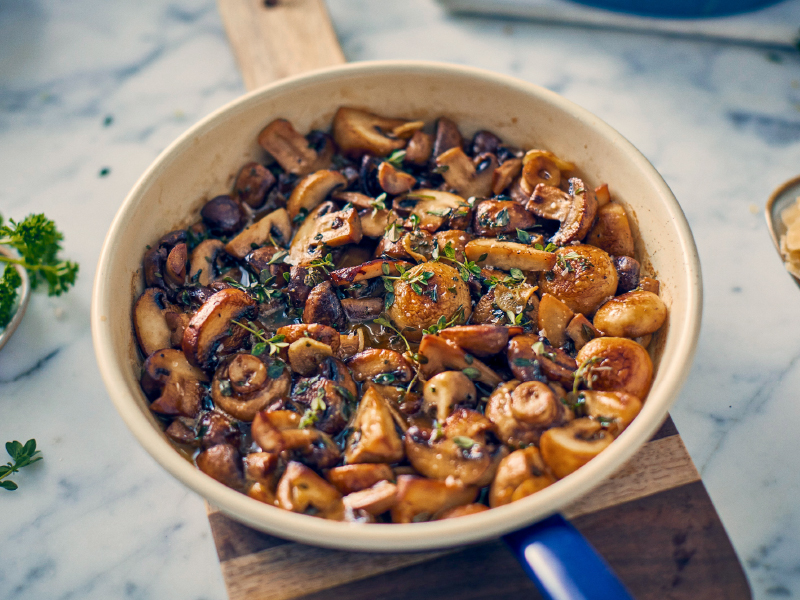 The opportunity
The 2020/21 marketing activities capitalised on the mushroom's unique status as a superfood. Highlighting its wealth of health benefits and rich umami flavour, the new 'Add the Mighty Mushie' campaign gave consumers multiple reasons to eat more mushrooms, more often.
The approach
The 'Add the Mighty Mushie' campaign was launched in 2020 and amplified through an integrated media, PR, and social campaign, backed by a broad range of retailer activities.
For the campaign launch, Australian Mushrooms partnered with renowned Aussie celebrity chefs to create bold and original mushroom recipes. This achieved great media pick-up, with 40 news articles featured nationally, with highlights including News.com.au, Herald Sun and Daily Telegraph.
To drive mass awareness, a new TV commercial ran across free-to-air TV and Broadcaster Video on Demand (BVOD). The commercial aired during the Project, MasterChef, 7 News, 10 News, The Amazing Race, and other top-tier programs, reaching 2.2 million 25–54-year-old grocery buyers.
Video advertising also ran across YouTube, targeting the categories of fitness, food, mushrooms, health and cooking, achieving 1.8 million completed views.
In addition, outdoor retail advertising targeted consumers on the path to purchase. Australian Mushrooms had a presence on 4,500 retail panels across the country, with research suggesting 28 per cent of people who saw them were more likely to make a mushroom purchase.
Australian Mushrooms also partnered with NewsCorp to create and distribute highly engaging mushroom content, including recipe videos, online articles, social media posts, e-newsletters and digital ads. Click-through rates for the NewsCorp campaign were 250 per cent higher than the industry benchmark – a clear indicator that the campaign and content resonated with consumers.
Australian Mushrooms continued its collaboration with MasterChef's Reynold Poernomo as he unveiled his Autumn mushroom menu and other seasonal mushroom recipes, maintaining media coverage and delivering almost 29 million impressions. Articles and recipes appeared in body+soul, Women's Health, 9Honey and Woman's Day, to name just a few.
In-store, Australian Mushrooms collaborated with major retailers to put mushrooms front and centre. November was Mushroom Month in Woolworths, with recipe cards rolled out across all stores to promote mushrooms in the lead-up to summer.
Aldi stores featured on-pack stickers with summer-inspired recipes, while Coles Online had a dedicated Australian Mushrooms Shop page, an Australian Mushrooms banner in the Coles FlyBuys e-Newsletter and a full-page advertisement featuring recipe inspiration in Coles Magazine.
The outcome
To ensure the monitoring and continued optimisation of the 'Add the Mighty Mushie' campaign, a brand and campaign tracking research study was conducted at each campaign burst. Key findings include:
Media campaign reached 96 per cent of 25-54-year-old Australian Grocery Buyers
4 million people reached via Broadcaster Video On Demand (catch-up TV) ads
8 million completed ad views on YouTube, exceeding forecasts • body+soul exposure reached 620k readers
2m reached via social media
32 per cent of those surveyed (prompted) recalled the campaign – higher than all previous Australian Mushrooms campaigns
8 out of 10 research respondents agreed key messages were easily understood - that mushrooms are both tasty and healthy
The campaign led to positive changes in mushroom perceptions, specifically around taste and nutrition
7 out of 10 respondents were more likely to purchase or use Australian mushrooms after exposure to the campaign.