Article
Tackling pests in sweetpotatoes
Publication date: 11 February 2022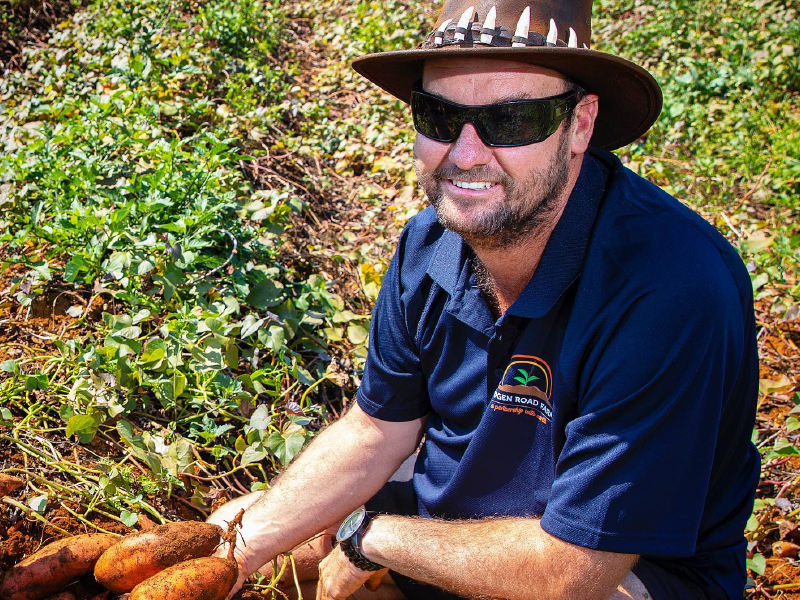 This five-year research project has delivered top quality, pest-free sweetpotatoes, grown in a clean, green, sustainable way.
The challenge
Nematode pests are one of the biggest environmental threats to the Australian sweetpotato industry. The challenge is how to effectively deal with these pests, while producing a product that meets consumer demands around quality and environmental impact.
Meet Matthew
Northern NSW sweetpotato grower, Matthew Pritchard, led a large-scale demonstration trial on his property as part of this program. As a result, he's incorporated new strategies into his day-to-day farming operation, delivering a high-quality product with a reduced environmental impact. Better yet, it's improved his bottom line.
"Over the last few years, we've learnt to identify our major sweetpotato pests and understand their lifecycles, which has allowed us to specifically time crop protection products for better outcomes," says Matthew.
"We've really focused on cultural controls to reduce numbers of sweetpotato pests before planting. We've focused on residue removal, removal of volunteer plants in cover crops, and great farm hygiene.
"Prior to the adoption of these techniques, the industry had a blanket chemical approach to sweetpotato pests. We were using it just in our normal irrigation system and we found that we got inconsistent results because of poor attention to detail with product placement."
While nematode trials are still ongoing, findings from this study have led to improved chemical application and soil penetration, meaning fewer chemicals, better yields, and lower costs.
"The outcome of using these improved techniques means our chemicals are more targeted, giving us more consistent results. In previous years we've had some significant losses due to nematodes of somewhere between 10 and 20 per cent per annum. We've now reduced that to less than five per cent".
The approach
In the first phase of the project, a series of nematode management grower workshops were conducted to arm growers with a better understanding of nematode pests and their lifecycles. Growers were also introduced to the very latest methods to monitor them in their farming systems.
Two large scale trial sites at a Bundaberg research facility and one on-farm research trial will form the focus of the next phase of the project, once pathogenicity screening for additional nematode species is further advanced.
The impact
Traditionally, chemicals have been the only way to control nematodes during the cropping period, but ongoing field trials are demonstrating potential benefits from managing pest populations between crops with a growing understanding of soil biology and improved cultural practices. The trials showed that in this way, pest pressure can be significantly reduced prior to planting.
Techniques successfully trialled and implemented included better cover crop planting and management, plus a more refined delivery of chemicals during the growing period. Pathogenicity trials have also been a large part of this project to understand nematode host specificity to guide on-farm field trials of rotational cover crops.