Article
Producing the perfect persimmon for Aussie conditions
Publication date: 10 February 2022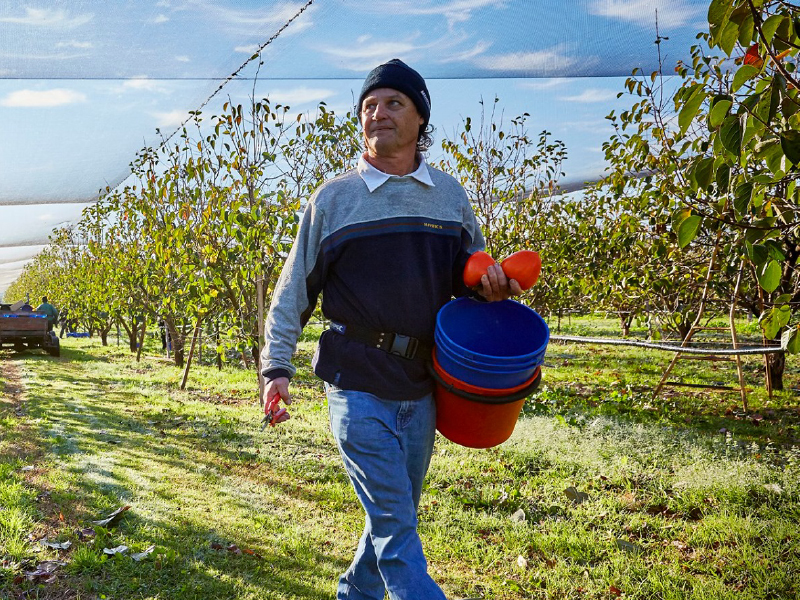 This investment is working to develop superior and locally adapted rootstocks for the Australian persimmon industry, importing and evaluating new varieties, and developing a standard clonal propagation technique for rootstocks.
The challenge
To increase its productivity and profitability, the Australian persimmon industry needs new and imported persimmon varieties with rootstocks suited to local conditions.
Meet Brett
Persimmon grower Brett Guthrey owns and runs Kathleen Haven farm in Greater Sydney. He believes superior and locally adapted rootstocks are the key to Australian persimmon's future success. "It's important to keep growing the persimmon industry. But to do this, we need varieties that are innovative and can extend the season for growers and consumers," says Brett.
He's optimistic the research being conducted through this investment will lead to those new, innovative varieties, and take persimmon from an exotic fruit to an Australian favourite. "Hopefully this research will be the key to unlocking commercial clonal propagation of persimmon rootstocks – a problem that has dogged the industry worldwide. Solving this problem and understanding established global markets, their varieties and suitability in Australia, are the keys to industry growth. The establishment of trialled rootstocks with individual traits that can be replicated will also lead to more productive farms."
"This program and research will definitely have an impact on my operation. All growers look to capitalise on their environment assets and having researched, relevant information ensures good decision making."
Brett believes the global search for varieties and their subsequent importation and evaluation is beyond the scope of individual growers, but this program makes it a team effort. "Together, we are able to do it for the benefit of all. Although a small player in the global persimmon market, Australia is now gaining international attention for its work on rootstocks."
The approach
Since 2018, this investment has researched superior and locally adapted rootstocks for the Australian persimmon industry, while importing and evaluating new varieties. It's also developing a clonal propagation technique for rootstocks, with guidelines on this and other persimmon management information to be produced for growers to adopt along the way.
Prior to COVID-19, the research team visited growers and key global experts in Spain and Portugal to bring the latest persimmon research and technology back to Australia. The team visited research facilities, academic institutions, orchards, packing, storage and ripening facilities, along with cutting-edge persimmon nurseries.
The impact
The team continues to work in close collaboration with growers, plant nurseries, and industry. The research team has commenced the establishment of grower trials across major growing regions. They've also made real progress on clonal propagation by successfully managing to develop sucker plants from rootstock mother trees for further propagation.