Article
Growing the knowledge and skills needed to develop Australia's dried grape industry
Publication date: 10 February 2022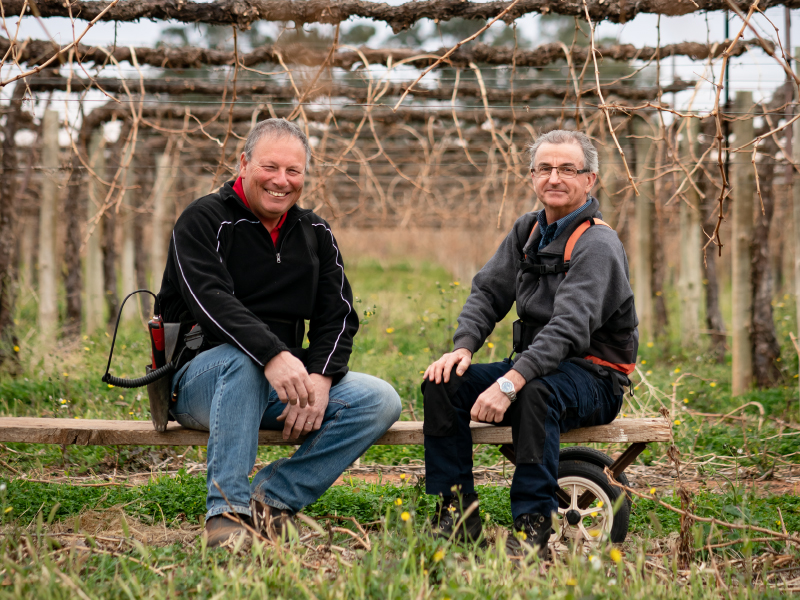 Beginning in 2018, this investment helps producers access and share leading and emerging research and knowledge on production techniques to grow skills, improve productivity, and keep quality high.
The challenge
It's important to encourage knowledge sharing among Australian dried grape producers and keep them up to date with the latest research and production techniques. This will grow skills and improve productivity and quality.
Meet Daryn
Daryn Gardner is a dried grape grower in Victoria's Mallee region. He's been carrying out various trials on his property for many years and thanks to this program, he's able to share learnings from those trials with other dried grape growers through field days and workshops, which he often hosts at his farm.
"I've found this program to be really informative and it's consolidated some of my own ideas and practices," says Daryn. "I've been happy to become more involved by hosting various field days on my property for two reasons. Firstly, because I feel it's good to be able to have peer review – have my own practices reviewed by someone who is an expert in their field – and this generally promotes plenty of discussion. Secondly, if I can help one person become more profitable in our industry it has been worthwhile."
"The program's helped growers with regards to information and knowledge sharing as it utilises various aspects, such as presenters, that are experts in the field, but also grassroots growers that other growers can relate to. It's also presented in a way that's easy to understand and questions are always welcomed."
Although program workshops and seminars have been scaled back due to COVID, they've been a significant part of the program, says Daryn. "These types of events are important and beneficial to my business because it brings larger groups of growers together and we're able to network with others who are striving for the same results, in the same industry."
Daryn is confident the program will become increasingly useful as the industry moves towards machinery and automation to help with production and efficiency. "The more knowledge and information we can access around this, the better. This area will improve our viability as it will hopefully decrease our reliance on our decreasing labour force and the increasing costs associated with labour."
The approach
The program, which began in 2018, includes workshops, seminars, field walks and focus groups for growers to ensure they're at the forefront of all aspects of the industry. These events typically run between April and January each season (in accordance with relevant COVID protocols) and are hosted on growers' properties in the Sunraysia, Riverland and Swan Hill regions, and at universities and research institutes.
The program is also delivering a wide range of learning materials for growers through the Dried Fruits Australia online learning platform and has a benchmarking component as well. This work provides the industry with benchmarks of production per hectare, production practices, prices received and input costs, and tracks overall industry productivity growth.
The impact
The team has continued to deliver their valuable outreach and extension events, including a series of workshops, which have been moved online due to COVID-19. However, there were occasional opportunities for on-farm workshops.
In January 2021, a Research and Development Forum was held to determine and prioritise research areas for the dried grape industry going forward. Hort Innovation is now using this information to inform the new Dried Grape Strategic Investment Plan 2022-2026.
Benchmarking work is also continuing, and this information, along with other relevant communication material has been presented to growers via the online Annual Growers Forum, in The Vine magazine, and the fortnightly Currant News. Industry statistics continue to be maintained in terms of varieties, hectares, exports, and imports.
Research into increased machinery and automation practices on-farm is also underway and The Best Practice Guide is regularly updated with the input of researchers, producers, and processors.