Article
Growing Australian vegetable exports in an ever-shrinking world
Publication date: 11 February 2022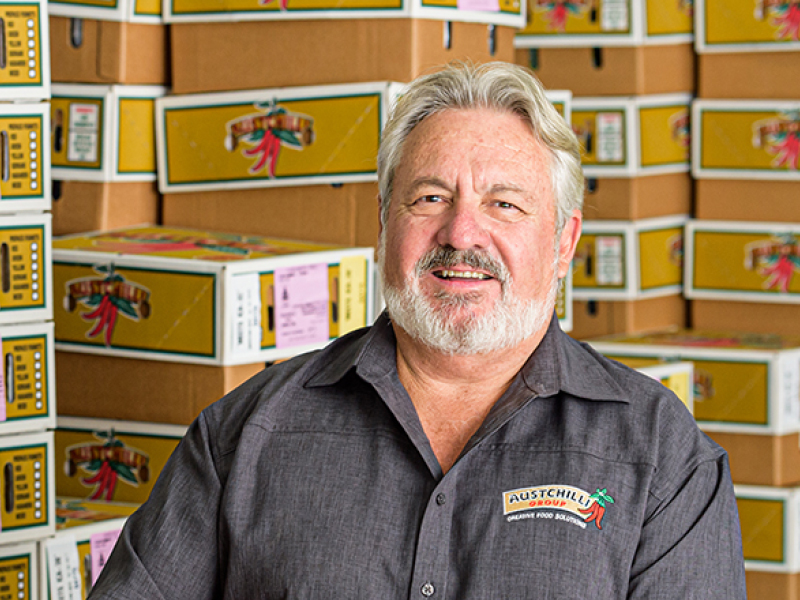 With the pandemic placing extra stress on Australian vegetable exports, growers need more help than ever to build export capability and capacity, and to improve their export readiness. This investment gives vegetable growers the tools and techniques they need to grow during COVID.
The challenge
With market closures, supply chain disruptions, and air and sea freight services ceased or heavily reduced due to COVID-19, Australian growers need more help than ever to get their produce to overseas markets.
Meet David
Founder of Austchilli and renowned Bundaberg farmer, David De Paoli, says, "We've got to act locally, but think globally. Whether it's COVID, or a natural event going through a specific area, even though we are growing produce in Australia we are all intrinsically connected, whether we like it or not. We can't take one size fits all approach."
David believes Hort Innovation's vegetable industry export program has allowed his business to meet these and other challenges, helping him to operate in a global market, giving him the tools to better understand his customers' needs, and providing valuable research and export assistance.
"This program does a great job at marketing the Australian brand overseas and leveraging it to the benefit of our growers. While there's a lot you can learn as you go, it's good to have people there who can help you so that you make fewer mistakes along the way."
The approach
While COVID-19 continues to severely limit activities at trade shows around the world, the program has doubled down on export readiness training for growers looking to improve export performance.
The Export Fundamentals for Australian Fruit & Vegetable Growers: From Farmgate to International Markets course contains 11 e-learning modules covering a broad range of topics relating to international trade for fresh produce. Topics include Export Planning, Export Documentation, Market Access, Market Entry Strategies, Freight & Logistics, Export Finance & Pricing.
The program has also worked closely with the Government to prioritise market access for Australian vegetable products.
The impact
Despite the many challenges posed by COVID-19, with the help of this program, Australian vegetable exports remained resilient. Pre-pandemic, this program ensured Aussie growers were front and centre at several major international trade missions and tradeshows. However, COVID has pushed many activities online, including increased resources and training opportunities for vegetable exporting growers.