Article
Defending Aussie mushrooms against pests and disease
Publication date: 10 February 2022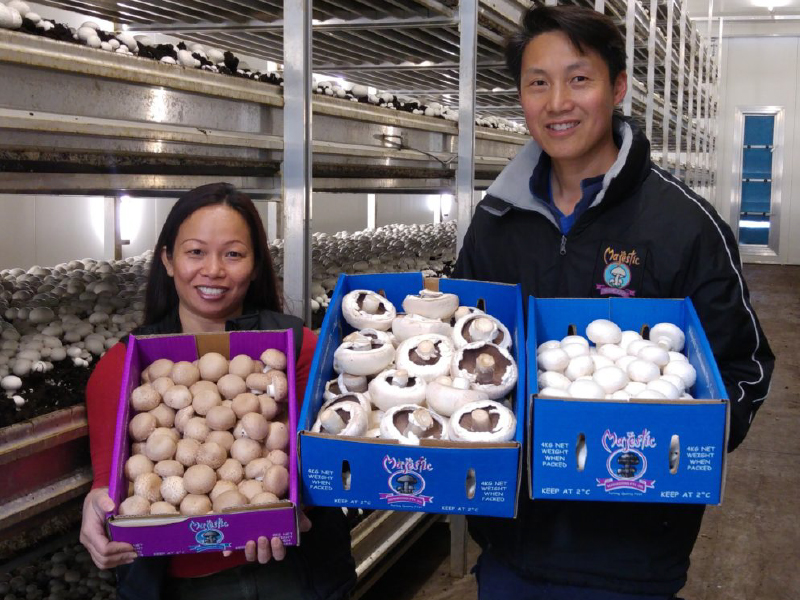 This national research and extension project is providing Australian mushroom farmers with the information and techniques they need to reduce the threat of pests and disease to their profits and productivity.
The challenge
The Australian mushroom industry is relatively disease-free, and they'd like to keep it that way. To do that, growers, pickers, and packers need the knowledge and skills to spot potential threats and handle them effectively
Meet Ian
Ian Chu, grower and director at Canberra's Majestic Mushrooms, believes the resources provided as part of this program are vital in the fight against pests and disease and a valuable tool to educate growers and their teams so they can identify biological threats.
"At a farm level, we constantly need to review our training because we constantly have new people. For any staff that have not been exposed to disease, knowing what to look for can be crucial. With this training, staff can identify disease and we can then manage it appropriately," says Ian.
"The make-up of farm employees is also changing. There are many ethnicities and language can be a bit of an issue. We're lucky that we have the capacity to translate to different languages on our farm, but that's where the visual resources created by this program are so important. For instance, the videos on the AGORA website. The ones around hygiene and spot treatment are fabulous because staff can see the pictures and we can pause the video and talk about each different point, especially about bubble, because early detection and spot treatment is the key to getting on top of it."
"We use some of the resources from this program in our own induction of all new staff and say, 'When you see this, let us know!'".
The approach
Because the Australian mushroom industry is relatively disease-free, most of the information and first action responses come from knowledge gathered overseas.
This project brings that knowledge to growers right here in Australia, so when they see something, they know exactly what to do immediately.
Mushrooms are our sixth most valuable horticultural crop, and as one of our most technologically advanced industries, this research and education are necessary to protect such a valuable investment.
Since 2017 this program has been delivering the latest farm-focused resources and education to growers and is responsible for maintaining AGORA – the industry's web-based pest and disease management knowledge database, which was established in earlier levy-funded work.
The impact
While the mushroom industry has good hygiene protocols in place, this project continues to ensure growers are equipped to prevent and manage on-farm disease threats from new and emerging pathogens. A review of such new and emerging pathogens has been undertaken and new and emerging symptom recognition resources for growers have been developed.