Article
Fostering collaborative research to increase yields, improve efficiency and enhance almond quality
Publication date: 4 February 2022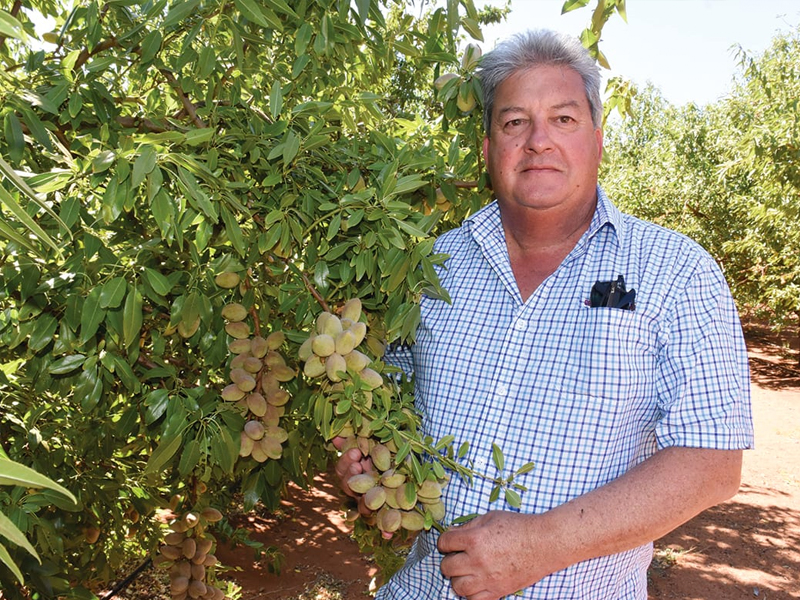 This investment is backing important collaborative research underway at the Almond Centre of Excellence experimental and demonstration orchard – a sixty-hectare facility showcasing best practice and pushing tech boundaries to make significant developments in production systems.
The challenge
With the almond industry having grown six-fold over the past decade, it needs R&D solutions to rapidly improve production and keep Australia at the forefront of the industry worldwide.
Meet Brendan
"The things we've learnt from this project have completely changed the way we operate," says Brendan Sidhu, CEO of South Australia's Century Orchards.
"Before this, we'd experimented with self-fertilising varieties on a small scale. Now we're planting whole orchards with the new self-fertile varieties. That's produced great results, including much easier irrigation management, fewer bees, and better economic outcomes for us and other growers"
"I'm really excited about the future of this project. I'm hopeful it'll help us optimise our water and fertiliser use and help move us closer to automated harvesting and orchard operations. Since day one, it's really enabled us to push the envelope."
The approach
In collaboration with the Almond Board of Australia and the South Australian Government, Hort Innovation is investing in The Centre of Excellence and experimental orchard in SA's Riverland to demonstrate how new technologies and practices can improve yield, quality, and efficiency. Previously, similar projects had been too small to gather quality data and growers were reluctant to devote space to experimental crops with a potentially low yield. The Centre of Excellence solves these problems, running experiments on a near-commercial scale with some outstanding results.
The impact
This project has removed the risk of trying new technologies, techniques, and varieties for growers, allowing them to implement new systems and strains, confident they'll improve yield and efficiency. Since 2015, this project has led to various innovations, improved water efficiency, and allowed research and development to keep pace with the rapid growth of the industry.