Article
We're heading high-tech, and I can't wait to see where technology will lead
Publication date: 1 December 2016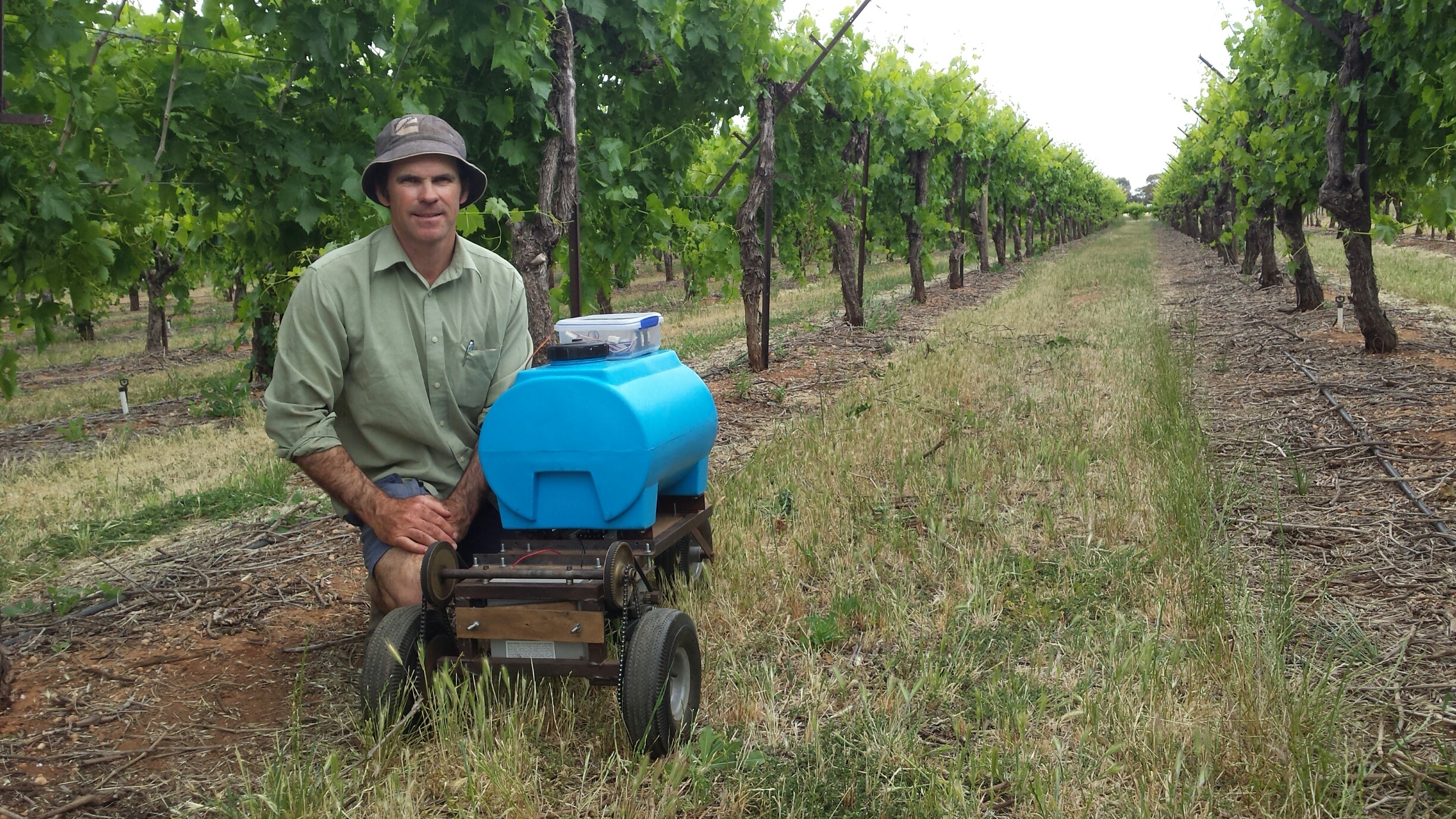 Grower profile – Stephen Bennett, Merbein, VIC
Meet the man who's so passionate about innovation in horticulture that he's building his own robot.
Stephen Bennett, a dried grape grower from Merbein in Victoria, has always had an interest in new technologies and systems for reducing labour and improving efficiencies.
"I grew up on the family farm in the era of hand picking, where every aspect of growing was very labour intensive," Stephen said. "I left for a career in mechanical engineering, but about 16 years ago I gravitated back to dried grapes when I saw the industry had started to commercialise some fairly significant innovations, particularly with trellis systems and pressurised irrigation technology. It was clear it was making big steps towards greater efficiencies and greater profitability. I wanted to be a part of that, so I came back to operate the business with my mum, dad and brother, Malcolm."
And, Stephen said, he's so glad he did. "Today farming on the whole is more exciting than ever. There are so many great things on the horizon, particularly with data collection and analysis, and of course with automation and robotics."
Robots are a particular point of interest for Stephen, who has for years wanted to develop his own machine to facilitate work on his property. And in the last few years, he's started to make that dream a reality.
"I've managed to build a small autonomous robot that can drive itself around using GPS coordinates. It's about the size of a wheelbarrow and no, it's not particularly accurate yet – but I built it for only a couple of hundred dollars and now with low-cost, high-accuracy GPS systems becoming available, I'm hoping to get my hands on something that will make it practical to use," Stephen said.
"I ultimately want to use the robot for automated weediciding, spraying and other vineyard operations that might normally be done with a tractor, but you just never know where this sort of technology will lead."
Stephen said that building his robot was made possible not only by the decreasing cost and increasing usability of electronics, but by the ease of access to information. "There's a lot of open-source information in the areas of automation and robotics, meaning you can see what's being done and how, and then try and tweak it for your needs. So it's not impossible for anybody and everybody to have a go. People all around the world are working in this area, from the little guys doing it in their spare time to the big companies."
Stephen is also busy tweaking other technologies for his business's needs, including working with second-hand moisture probes and software to help in irrigation scheduling.
"Another interesting thing I'm trying out is using time-lapse photography to monitor the growth of foliage and match that with weather conditions over a long-term period," Stephen said. "So you might take a photo once a day and monitor the maximum and minimum temperatures, and then you go back in a month or two and see a 30-second movie of how things are progressing on your land. It's very early days yet, so we'll see how it goes."
As well as innovation in his own business, Stephen has a keen interest in levy-funded R&D for the industry. Two Hort Innovation projects he's particularly pleased about have had a focus on objective colour assessment in dried grapes, with the outcomes set to take some of the uncertainty away in the by-eye colour grading of fruit.
"The difference in price between light and dark fruit has been increasing over the years, so financially it's become imperative to have an accurate objective system in place for both growers and processors," Stephen said. "Technology has also progressed to allow for better digital image capture and software analysis, and these two projects have come up with systems that seem very promising based on this. Hopefully this season we'll be able to trial them on a larger scale and have a solution – or two – once and for all."
Stephen said that as well as new systems and technologies, he'd like to see new people in the industry as well. "My hope is that robotics and other new technology will help people realise the potential of horticulture in general and bring more people into our industry specifically. The way things are headed, I think farming will come to be seen as a fairly high-tech industry, and hopefully that generates a lot of interest."
Want to see Stephen's robot in action? While it's still a work in progress, see an early test run at https://youtu.be/FZ_YbXtAJFc
Details
Copyright: Copyright © Horticulture Innovation Australia Limited 2018. The guide (in part or as whole) cannot be reproduced, published, communicated or adapted without the prior written consent of Hort Innovation (except as may be permitted under the Copyright Act 1968 (Cth)).
Any request or enquiry to so use this guide should be addressed to:
Communications Manager
Horticulture Innovation Australia Limited
Email: communications@horticulture.com.au