Article
The science behind creating the best-possible produce
Publication date: 1 August 2017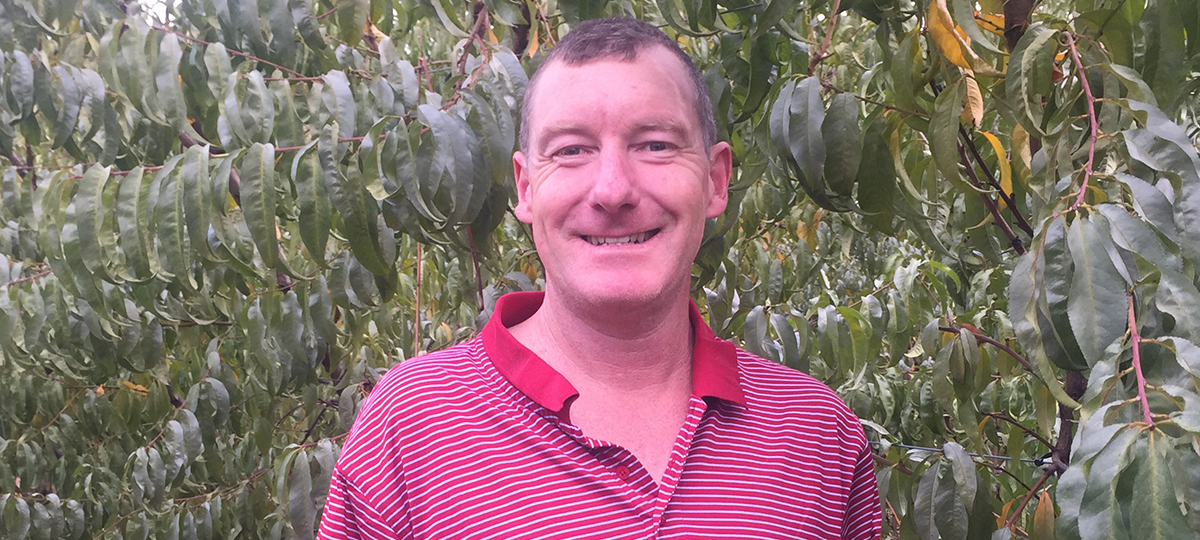 Researcher: Dr Mark O'Connell, Stonefruit Experimental Orchard - DEDJTR, VIC
Amid rising stone fruit export opportunities and the ever-present need to satisfy consumer expectations, Dr Mark O'Connell is working to change the way the industry does business, one field trial at a time.
A horticulture production scientist, Mark has been assigned a single though significant task by the summerfruit industry through Hort Innovation: to help make the nation's stonefruit more consistent in quality.
Backed by his team at the Victorian Department of Economic Development, Jobs, Transport and Resources (DEDJTR), Mark is meeting that challenge at a purpose-built, world-class, high-density experimental orchard in Victoria's Goulburn Valley region.
Established in 2013, the facility helps researchers evaluate how orchard management (crop load, radiation interception, rootstock and irrigation) affects fruit quality and its variability (including sweetness, firmness and maturity) in selected varieties of peach, nectarine, plum and apricot. This research represents a strategic levy investment under the Hort Innovation Summerfruit Fund and is funded by Hort Innovation using the summerfruit research and development levy and contributions from the Australian Government.
A number of achievements have been made to date with information on tweaking orchard management to improve fruit quality already available to growers on Agriculture Victoria's Horticulture Industry Network website. And there's plenty more to come.
The challenge
Each year, only 52 per cent of Australian households buy apricots, nectarines, peaches or plums (summerfruit). Consumer testing has revealed consumer satisfaction can wane due to inconsistent fruit quality, and this can lead to limited prices from oversupply, and poor returns for growers.
"Through this project, we are working to turn poor sales growth around and essentially revitalise industry by giving them the tools they need to create the best product possible," Mark said.
"On top of that aim to help drive up prices and change static domestic consumer consumption, the export potential for stone fruit to Asia is enormous."
For the year ending June 2015, Australia exported 12,665 tonnes of summerfruit, chiefly to the United Arab Emirates, Saudi Arabia, Hong Kong and Singapore. Exports jumped 12 per cent that same year and are tipped to rise further after China welcomed its first Australian stone fruit – nectarines – late last year. This feat was achieved off the back of extensive work done by Hort Innovation, Summerfruit Australia and the Australian Government Department of Agriculture and Water Resources.
Working to boost fruit quality
The Stonefruit Experimental Orchard, located at Tatura, 18km out of Shepparton, is the essential tool in Mark's project. It sits on three hectares and consists of a host of experiments with peach, nectarine, plum and apricot varieties, with researchers studying the effects of crop load, canopy design, rootstock, irrigation management on production, yield and fruit quality.
Additional trees were recently planted to demonstrate novel canopy systems – including two-dimensional hedgerow and cordon tree training – for mechanical pruning and harvesting and provide a range of cultivars for post-harvest fruit quality analysis and testing innovative technologies, such as fruit gauges and sensors.
Various harvest tools and facilities were also recently added, including a fruit grader, cool rooms, controlled atmosphere rooms and disinfestation containers to complement the field studies.
The project team have hosted several visiting scientists and international students, with the orchard forming the foundation for studies on crop water use and crop water stress, fruit growth, fruit maturity, fruit volatiles and post-harvest storage and handling.
Mark said various grower groups also visit the site to learn from the research, and feedback has been positive.
"Grower groups seem particularly interested in rootstocks, which is a reflection of the lack of available information on interactions between rootstocks and orchard productivity," he said.
"Visitors always have a liking to observe the plum and apricot studies, particularly at fruit maturity."
Getting the orchard to the ultra-modern and thriving state it is at has been no small feat, Mark said.
"The challenge has been to establish a world class modern high-density experimental stone fruit orchard to advance the understanding of agronomic and physiologic factors that improve consistency in fruit quality, particularly sweetness," he said.
Autumn 2017 saw the completion of harvest of all 11 field experiments.
Delivering results
Mark and his team have uncovered some interesting top-level findings:
The researchers note thinning resulted in significant differences in crop level, fruit yield and average fruit weight – though uniformity of fruit size was similar among crop load treatments and canopy systems.
In all cases, the low crop load treatment decreased yield and increased fruit size – generating a greater proportion of fruit meeting/exceeding minimum fruit size for export to Asia.
With high crop-load treatments – where there was a high amount of fruit per tree – the researchers described a significant decrease in fruit size and fruit sweetness in both peaches and nectarines, irrespective of canopy system used.
In general, sweetness increased with a reduction in fruiting level – and comparing training systems, fruit sweetness was higher on Tatura Trellis in both peaches and nectarines compared to a vertical leader system.
As part of this project, a range of videos of the trial orchard facility are available online, and field tours are held each year at DEDJTR-Tatura.
Where to from here?
Mark and his team are in this process of developing production protocols for consistent fruit quality. These will be made available to growers on Hort Innovation's Summerfruit Fund grower page, as well as the Horticulture Industry Network website.
Next, the research team is keen to investigate on the roles of rootstock, crop load, canopy design and irrigation management on fruit quality. Additionally, a new research focus will be on the role of fruit position and light interception relationships on fruit quality.
Details
Copyright: Copyright © Horticulture Innovation Australia Limited 2018. The guide (in part or as whole) cannot be reproduced, published, communicated or adapted without the prior written consent of Hort Innovation (except as may be permitted under the Copyright Act 1968 (Cth)).
Any request or enquiry to so use this guide should be addressed to:
Communications Manager
Horticulture Innovation Australia Limited
Email: communications@horticulture.com.au