Article
Take a time out with Ros
Publication date: 15 January 2016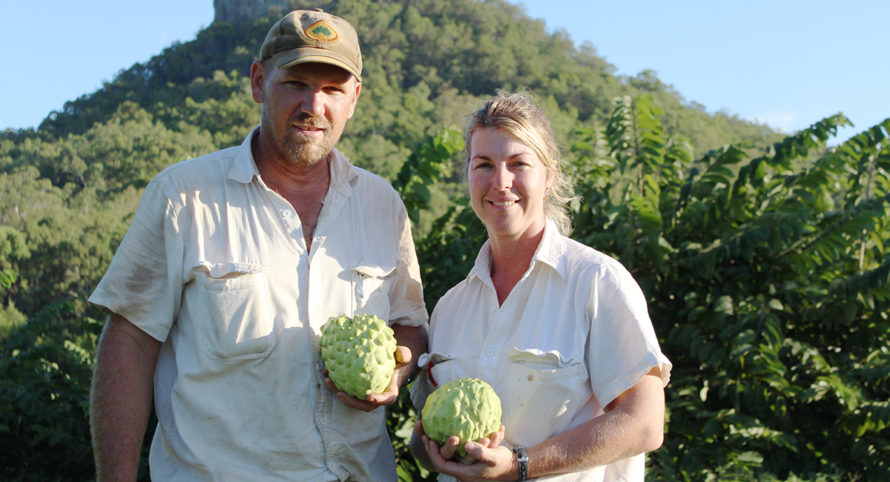 Grower profile – Ros Smeardon
Ros Smerdon and husband Kerry, a third-generation farmer, grow custard apples and macadamias on their two farms at Glasshouse Mountains, Queensland. The farms, which started with Kerry's grandparents growing bananas and pineapples in the 1950s, eventually moved to growing avocadoes, macadamia and custard apples. Now, the primary focus is on macadamias and custard apples.
Passionate about growing good food, Ros is also the retiring President of Australian Custard Apples, the industry's peak body, but the passion for a good product and a solid Australian industry remains strong.
What are the some of the challenges you face as a grower?
The weather, pests and diseases are some of our biggest challenges. Last year we had around 600 ml of rain in a couple of hours. You can have the best IPM and other practices in place and that one weather happens and there it all goes.
Another challenge can be compliance. The time spent on compliance adds to the costs of the product and often imported products don't have the same stringent compliance. That makes the product more expensive for consumers but it all adds to creating a premium product. Consumers need to understand that they are eating a healthy, quality product that has gone through stringent compliance to make it great eating. It's an attitudinal change.
What's great about being a custard apple grower?
You can't overstate the satisfaction and pride you feel when you pack a tray of custard apples that look magnificent. That feeling that you've worked really hard on that crop to get it off the tree and into a box and they look awesome. We're also feeding consumers with something different for that time of the year – we're giving people something that's different for that time of year. Custard apples are something to look forward to. They're different to the standard summer and autumn seasonal fruit you see and they're delicious and good for you.
What's great about being part of the custard apple industry?
While it's such a small industry, it has such a committed team of researchers and people willing to contribute to the industry. For a small industry, it's successfully punching above its weight for what it's achieved.
How have you benefited from custard apple research in Australia?
CADS (Custard Apple Dispatch System) is great. You can enter your data straight in and extract any data, see your gaps and plan into the future. The breeding work with DArT markers (Diversity Arrays Technology) has helped make breeding much more efficient. And if the research into developing a new red variety, which also identified a couple of new green varieties, comes to fruition, that will be exciting.
What's your hope for the future of the custard apple industry?
A sustainable industry. We're giving consumers a great eating experience. We need to ensure a strong supply chain and good cool chain so that custard apples are arriving to them in great quality. But we also need to educate consumers on appearance and fruit quality. Custard apples, like any fresh produce aren't always perfect on the outside. A blemish on the surface doesn't mean they aren't perfect inside. They're still good eating and that's what's important.
Details
Copyright: Copyright © Horticulture Innovation Australia Limited 2018. The guide (in part or as whole) cannot be reproduced, published, communicated or adapted without the prior written consent of Hort Innovation (except as may be permitted under the Copyright Act 1968 (Cth)).
Any request or enquiry to so use this guide should be addressed to:
Communications Manager
Horticulture Innovation Australia Limited
Email: communications@horticulture.com.au