Article
Pursing a holistic approach to persimmons
Publication date: 1 November 2016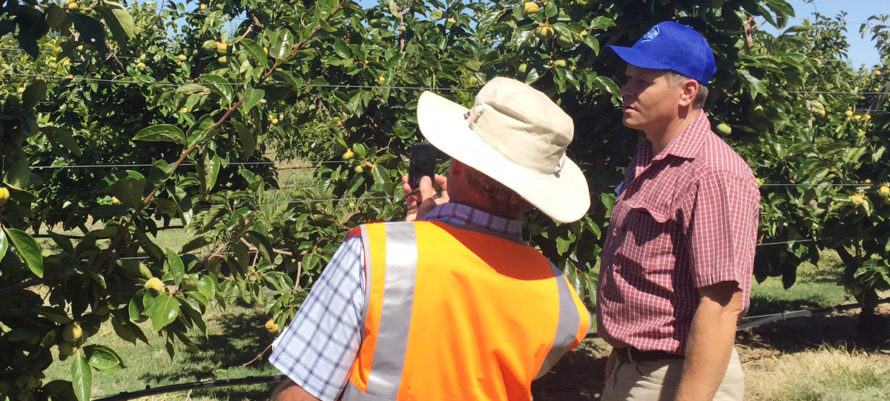 Grower profile – Stephen Jeffers, Sunshine Coast, QLD
Sunshine Coast grower, Stephen Jeffers is a third-generation farmer growing persimmons and avocados. Over the years, Stephen and his family have grown a number of crops suitable to the subtropics and altered those crops to respond to changing markets and demand. Today, his operation focuses on persimmons and avocados, with a small vegetable operation of mainly cherry tomatoes.
Stephen is a grower, propagator and retailer, and he serves as Secretary and Treasurer for the persimmon industry representative body, Persimmons Australia Inc. Stephen's perspective of seeing the industry from all angles drives his enthusiasm for what is possible.
Since leaving school over 20 years ago, orcharding has been his passion and it's obvious by the way he talks about what he does. "It's my thing. I love it," said Stephen.
"I've tried different crops, from low-chill stonefruit, custard apples, beans and zucchini, but I'm really enjoying persimmons and avocados for now."
But growing in the subtropics can come with challenges. "There's always pest pressures and issues with fruit quality in this kind of environment. But I like the challenge."
"I use a lot of integrated management approaches and try to manage the orchard as a whole system – through improved soil nutrition, natural nitrogen inputs from microbes for plant health, and reduced disease and insect pressure.
"My approach now is focusing on soil fertilisation, reducing chemical inputs and talking on IPM (Integrated Pest Management). By introducing beneficial insects, I've minimised sprays and I avoid using broad spectrum pesticides. "
"I do net on the orchard for fruit fly and in others I can bait. Where I do spray, it's targeted and minimal."
Stephen recently used compost to add beneficial microbes to the soil to improve nutrient uptake of the crop. That decision came from learning about a levy-funded research project. His avocado crop is also benefiting from levy-funded research – he's improving the root health of his avocado trees with micro-organisms to minimise Phytopthora root rot with great results.
"Most pathogens have a natural antidote and if you find it, it puts lower stress on the farm. If it's a natural system that you understand, less can go wrong. You've built a system to be resilient. It also means it can better cope with environmental challenges and climate extremes. And the crop is better tasting and a better quality product.
"I'm a big believer in supporting industry initiatives and industry groups. If you stay close to research and marketing initiatives in the industry, you'll be in the know on what's new and what's happening, and it also keeps you in touch with what's happening with the fruit internationally."
Passionate about persimmons, Stephen enjoys being part of developing the industry. "I really enjoy talking with other growers. They're passionate innovators by nature – persimmons are not well known but the growers see the opportunities. They're enthusiastic about getting persimmons to market and increasing consumer recognition."
"It's not always easy. The industry is small and there's limited resources, but we do a lot of our own experimentation and I enjoy that too – working things out. We have to innovate to be in the market and I really enjoy that."
"It's a respectable and well-known fruit in other parts of the world, and Australia has a great reputation for growing good produce, so we have to keep making sure we can live up to our image. Selling persimmons abroad with that image is a great opportunity."
"The future is in natural suppression of pests and diseases. We're moving away from pesticides. Consumers are demanding it and will demand it more and more."
"I've found that by managing a natural system, I'm maintaining control – of the produce and of the farm. I'm controlling its viability and it feels good to be in control of your destiny."
Details
Copyright: Copyright © Horticulture Innovation Australia Limited 2018. The guide (in part or as whole) cannot be reproduced, published, communicated or adapted without the prior written consent of Hort Innovation (except as may be permitted under the Copyright Act 1968 (Cth)).
Any request or enquiry to so use this guide should be addressed to:
Communications Manager
Horticulture Innovation Australia Limited
Email: communications@horticulture.com.au