Article
Educating and inspiring consumers is what it's all about
Publication date: 10 July 2017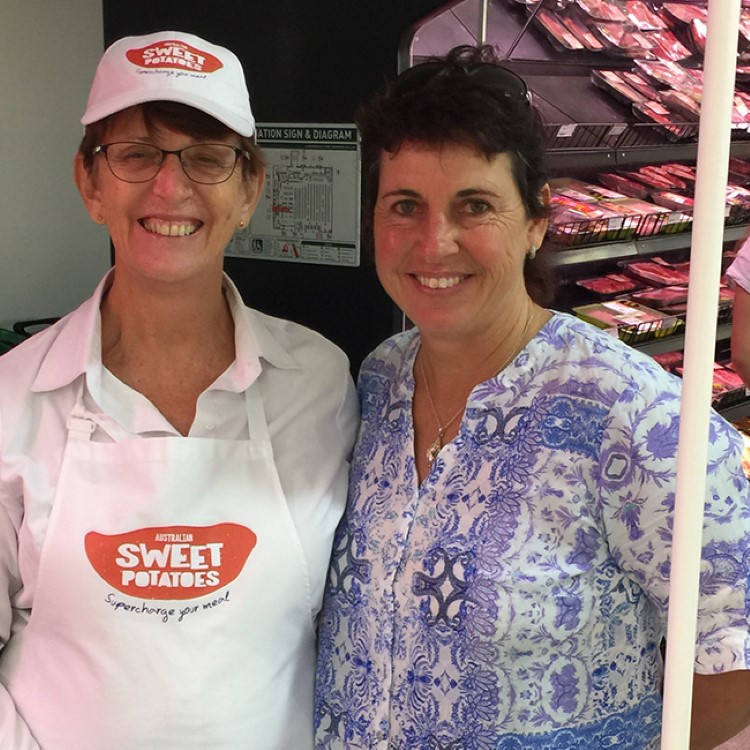 For almond grower Linda Zunker, the industry's levy-funded marketing has been something of a whirlwind since it began in March 2017 – but the flurry of activity has been a good one!
"I have to say straight up that, perhaps like a lot of sweetpotato growers, for me there was a little apprehension around what the marketing levy would mean, and how things would progress. In a word: fast!" Linda said. "But I think that if we were left to our own devices, we wouldn't have progressed anywhere near to what we have already. So far we've got a new brand, a logo, a website, social media, recipes and recipe cards and brochures. Our in-store campaign started in early March, and sweetpotatoes were also showcased at the Sydney Easter Show. So there's been quite a lot."
On the way up
Linda said that the Australian Sweetpotatoes campaign has come at a good time for the industry. "We're really lucky that the market for sweetpotato is one that's growing. The marketing activity is going to get the message out and increase consumption that much more, to help this growth along and sustain it."
Education and inspiration will be powerful tools here, Linda said.
"A lot of people see sweetpotato as an old-fashioned food that has to be boiled or roasted. But it isn't and it doesn't. It can be a million different things. Some of the recipes out there just blow you away – there's so much that can be done with sweetpotato."
Recipes that are part of the campaign materials to date range from purees for babies and basics with a twist, such as hassleback sweetpotatoes, right through to unexpected combos such as sweet potato, coconut and peanut butter ice-cream.
Health messages are also important, Linda said. "We've got a fantastic product – the health benefits of sweetpotato are a real selling point – and while the product itself hasn't changed, now we have the promotion side of things to draw more people in."
Sharing the sweetpotato love
As a member of the sweetpotato Strategic Investment Advisory Panel, Linda visited one of the in-store demonstrations in her local area to see the marketing action firsthand.
"I was very happy with the set-up in the store, it was really well done," she said. "You could see and smell the sweetpotato fries being cooked, and though bad weather meant there was a lower supply of sweetpotato than anticipated, the shoppers got recipe cards to take away, to keep them coming back to buy more sweetpotato."
Linda said she has her own little supply of recipe cards and booklets from the campaign, to make use of in her business. "At Windhum Farms, we have local food tours call into our shed to get a bit of an insight into what goes on. So I've called up and got some of the marketing materials to distribute to the people coming through."
Any grower is welcome to request the cards and booklets to help get the word out – simply contact John Maltby from Australian Sweetpotato Growers Inc on 0478 174 802 or at aspg.sec@gmail.com.
"Like many growers, I love telling people about the industry – and this is just another way to engage with them," Linda said. "I truly believe the sweetpotato industry has a fantastic future, and promotion and education are a key part of moving forward."
Details
Publisher: Horticulture Innovation Australia Limited
Copyright © Horticulture Innovation Australia Limited 2018. The guide (in part or as whole) cannot be reproduced, published, communicated or adapted without the prior written consent of Hort Innovation (except as may be permitted under the Copyright Act 1968 (Cth)).
Any request or enquiry to so use this guide should be addressed to:
Communications Manager
Horticulture Innovation Australia Limited
Sydney NSW 2000 Australia
Email: communications@horticulture.com.au